The Pakistani drama industry has unfolded many surprises in recent years. With many new faces joining the club, local audiences have much more to enjoy. The year 2022 brought us so many new shows and faces. Best Pakistani dramas continue to win hearts across the globe. This year, many new dramas and actors made their debut, and the fans can not stop loving them. While this may be true, there is a significant paradigm shift in the Pakistani industry, with dramas finally removing conventional love stories. Modern-day writers and producers are interested in bringing out different story elements highlighting social issues. The recently aired dramas have a special place in the audience's hearts. The reason behind it is highlighting unconventional matters of society that we fail to acknowledge.
List of Best Pakistani DramasIf we talk about Pakistani Dramas, we can not conclude all the dramas in just one list. Pakistan is famous for its Drama industry, so we have compiled a detailed list of Pakistani Dramas over the years, including the best Dramas produced in Pakistan during the last 5 years.
1. Sang e Mah – Top Pakistani Drama of 2022

We can never deny Atif Aslam's existence as a plus for this drama series, but there is a lot more to the plot of Sang e Mah than just star celebrities. The drama focuses on tribal families and their sacrifices in modern-day Pakistan in the name of traditions. The series is a sequel to Sang e Mar Mar, which ended in 2017 and picked up after that plot. Both shows played a vital role in highlighting the ugly parts of our society that we often turn our back on.
The themes include honour killings, domestic violence, bride bribes and patriarchy in feudal societies, and they tried to counter the issue via its script and strong plotline.

2. Paristan

This show has a lighthearted feel to it despite having painful character backstories. Paristan got most recognized due to Merub and Junaid Khan Niazi's appearance as a couple. Everyone adores the two stars together, and let's not kid ourselves – they look cute. The story has a lot of tropes, but since it's a sitcom, it doesn't leave us feeling wrong about anything too much.Each episode promises laughs and giggles, and we are here for it!
3. Dil Awais

The story is a bit like the ones we grew up watching on Star Plus and revolves around the sufferings of the main character – Dil Awais. Unloved by her father due to her mother's past, she is left at the mercy of her stepmother and sister, who treat her very poorly throughout. As the story progresses, Dilawaiz comes across Sikander and falls in love with him. However, Sikander likes her step-sister and chooses to marry her.Stepsister, Fariya, runs away with her boyfriend, leaving Dilawaiz to soothe the pride of both families by marrying a man who never wanted her. The story is full of jaw-dropping moments and makes one rethink our society and the faces it hides.
4. Mushkil Drama Mushkil Drama story unveils with every passing episode. It started with university life and Sameen and Faraz getting into trouble. The story has taken a quick turn. Sameen's fiance left her. The fathers of both of them decided to get married.
So far in this drama, Faraz and Sameen are married out of their consent. Faraz's expressions throughout the episodes show his unwillingness to accept Sameen.How can we forget our villain, Zainab Shabbir, as the harem finds no halt? Being a selfish friend, she tries her very best to let Sameen down as her revenge for her. She is spreading bad words about her and cursing her for the mistake she made on her own. This was all about the Mushkil drama review. Let's see what happens next.Mushkil drama cast includes Saboor Aly, Khushhal Khan, and Zainab Shabbir, who are playing their roles dedicatedly. As far as the story is concerned, the plot has taken a fast pace that depends on no flashbacks; the audience is not in any suspense about what is to come. So, stay tuned for the Mushkil Drama Review so far.6. 

Mayi Ri Drama

 

– Top Pakistani Drama of 2023

Many Pakistani drama makers are turning from mainstream love stories to family political plots. They are switching to portray some severe issues of society like Sang-e-Maah, Kabuli Pulao, Jindo, Pinjra, etc. One of the latest projects on ARY digital is the Mayi Ri drama, which has taken over the internet by touching on the issue of child marriage, starring Aina Asif. Learn more about the Mayi Ri drama cast, storyline, timings, OST, etc. So far, Mayi Ri has gained the position among the Best Pakistani Dramas of 2023.Here are the top lessons from Mayi Ri Drama.

10 Pakistani Dramas that should be on top of your mind

Every year, the list of best Pakistani dramas adds more names as loved and encouraged by local and global audiences. Moreover, the addition of new acting faces (male and female) is also lighting a spark of interest locally. Is the scope of the Pakistani drama industry finally changing for the better? We would love to know your thoughts about it in the feedback section. But first, let's talk about the top 10 Pakistani dramas to get you started.If you came here, we know you would look for the top 10 Pakistani dramas of 2022, 2021, 2020, & 2019. You can also check out our list of Best Pakistani Dramas 2021 here. Let's give an overview of which drama performed best in Pakistan during these years.The best way to spend leisure time, specifically for women in Pakistan, is to watch dramas while having a hot cup of tea or coffee while munching on snacks. Well… we should be proud that Pakistani dramas are being watched widely across the globe. So, if we have a look at the reel of the theatres for 2019, 2020, 2021, and 2022, a number of these have been marked as blockbuster serials, and here we have compiled a list of the top 10 unforgettable dramas of the year:

1. A Love Story You Can Never Forget – Raqeeb Se!
An entirely different love story from the past that changes the life of a well-settled family. Raqeeb Se is like a classical love story introducing legendary actors in unforgettable roles. The main cast of this drama includes Nauman Ijaz, Hadiqa Kiani, Sania Saeed, Iqra Aziz, and Faryal Mehmood. Keep watching for a lot more to reveal in this love story. The drama goes on-air every Wednesday at 08:00 pm on HUM TV.You can watch the drama by clicking here.

2. Harassment Case That Made Everyone Suffer – Dunk!
Dunk is another fantastic drama on-air while garnering much praise on ARY Digital. The main cast of the drama serial Dunk includes Nauman Ijaz, Sana Javed, Azekah Daniel and Bilal Abbas. The storyline of Dunk also covers harassment cases. However, a new aspect has been considered. Every episode opens up a new story chapter, so don't miss it. You can watch it on Wednesday at 08:00 pm only on ARY Digital.You can watch the drama by clicking here.

3. Spiritual Romantic Story – Khuda Aur Mohabbat!
Khuda Aur Muhabbat has finally gone on-air on Geo TV. The first episode made its way to the screen on the 12th of February. It has a coveted cast of Iqra Aziz, Junaid Khan, and Feroze Khan. The drama is written by the same novel writer, Hashim Nadeem, directed by Syed Wajahat Hussain and produced by Abdullah Kidwai and Asad Qureshi. It is the third season of one of the most popular dramas, Khuda Aur Muhabbat. The story is the same but created differently for a new viewer experience. Watch it every Friday at 08:00 pm on Geo TV.You can watch the drama by clicking here.

4. A Tale of Sacrifices In Chasing True Love – Raqs-e-Bismil!
Raqs e Bismil Drama is a tale of sacrifices in chasing true love. Brilliant actors like Sarah Khan, Zara Sheikh, Mehmood Aslam, Anoushey Abbasi, Momin Saqib and Furqan have gathered to make it the year's hit. Raqs e Bismil is directed by Wajahat Rauf. As soon as this drama serial went on-air, viewers got crazy, specifically after seeing Imran Ashraf in a new look. Raqs-e-Bismal goes on air on HUM TV every Friday at 08:00 pm.You can watch the drama by clicking here.

5. In Search of the Evil – Phaans!
One of the best new dramas, Phaans and, is going on-air on HUM TV. The drama is based on the dark side of relationships and the subsequent mental and physical abuse. Although we have watched so many dramas that are based on rape and sexual abuse, however, this drama highlights how the lower class faces pressure in such a situation. The main cast of this drama includes Zara Noor Abbas, Sami Khan, Ali Tahir, Shahzad Sheikh, and Yashma Gill. You can watch the drama serial Phaans every Saturday at 08:00 pm on HUM TV.You can watch the drama by clicking here.

6. The Love at First Sight – Pehli Si Muhabbat!
Pehli Si Muhabbat is a love story that will keep you involved with every scene till the end. The drama's main cast saw the lovebirds face the most challenging circumstances in having each other for life. It is an intense game of expressions and how the impossible is made possible while bravely fighting. Don't miss it and watch PehlThe main cast of the drama serial Pehli Si Muhabbat includes Maya Ali, Sheheryar Munawar, and Hassan Sheheryar Yasin (HSY). Watch Pehli Si Muhabbat every Saturday at 08:00 pm on ARY Digital.You can watch the drama by clicking here.

7. A Journey of Ups and Downs – Safar Tamam Hua!
Safar Tamam Hua is a new drama serial going on-air on HUM TV. This drama portrayed family relations differently from the first episode, instantly grabbing our attention. Rija is the first character who catches the viewers' attention; she, one with some visible cognitive disabilities, is very innocent and childlike in her behaviour. Rija was raised by Khala (Samina Ahmed), a woman with two sons of her own, Jamal (Syed Jibran) and Sami (Ali Rehman Khan). Rija's father has left the family and remarried. She also raises Anoushey (Madiha Imam), her other brother's daughter, a man who lives with them but is a musician who was heavily involved with "tawaif culture". She continues to remain there emotionally and mentally. Don't forget to watch Safar Tamam Hua on HUM TV every Monday and Tuesday at 08:00 pm.You can watch the drama by clicking here.

8. A Must-Watch Romantic Comedy – Shehnai!
Among so many severe and emotional dramas, here we have on the list a romantic comedy-drama serial – Shehnai, that is a treat for the viewers. The drama goes on-air on ARY Digital every Thursday at 08:00 pm.Shehnai Drama has Affan Waheed as Bakht, while Ramsha Khan plays the role of Meera. Affan Waheed and Ramsha Khan have worked together in multiple drama serials. However, this one will be unforgettable.You can watch the drama by clicking here.

9. A Love Story That Transcends Above All – Fitoor!
Fitoor narrates a love story that transcends above all, as a person in love is bound to forget about the worries of the past and the uncertainty of the future. Despite being a successful architect, Haider feels lacking in his love life as he still lives with the memories of his love interest. On the other hand, Dilnasheen, who hails from a middle-class background, is deeply in love with her best friend's brother Hamza. Both are committed to being with each other forever without realizing the difficulties they might have to overcome. Living in her present, Dilnasheen's life takes an unfortunate turn when she crosses paths with Haider.  The main cast of this drama includes Faisal Qureshi, Wahaj, Kiran Haq, and Hiba Bukhari. Don't forget to watch it on Geo Entertainment every Tuesday at 08:00 pm.You can watch the drama by clicking here.

10. When Your Decisions are Dominated by Others – Qayamat!
Qayamat is the story of a beautiful young girl whose life decisions are dominated by those around her. Eventually, all hell breaks loose when the people closest to her repeatedly make the same mistake, making her future bleak. Ifrah, her parents, and her elder sister Samra belong to the lower middle class and believe in hard work and honesty. Ifrah and Samra's parents are put in a tough spot when Ifrah's uncle Mukhtar asks for Samra's hand in marriage for his son Rashid. The families agree to the proposal without getting Samra's approval; however, soon after the wedding, Samra offers to mistreat Rashid until she meets a tragic incident, leaving Ifrah to face dire consequences. The main cast includes Ahsan Khan, Neelum Munir, Amar Khan, and Haroon Shahid. Don't forget to watch the drama serial Qayamat every Wednesday at 08:00 pm.You can watch the drama by clicking here.Pinjra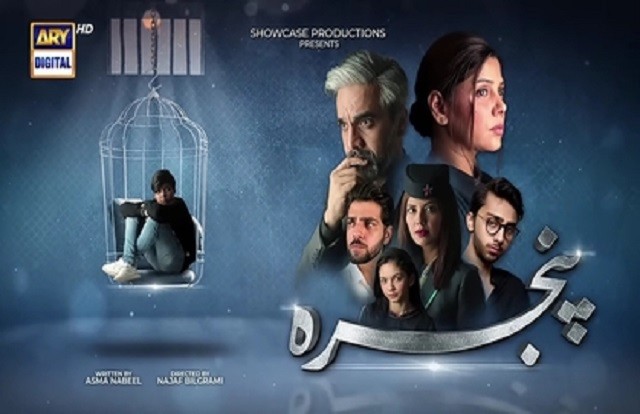 Pinjra is a new ongoing drama on ARY Television. The mere Hamsafar drama ended last week, so from 6 October, Pinjra drama is coming on air every Thursday. Pinjra is a story of two households that focuses on the lives of young children with different intellectual levels.Top Pakistani Dramas of 2023A new year has begun, and we have left many things back in time. Among all those things are old drama stories and characters. While stepping into 2023, we will get many new dramas with unique stories and exciting characters. Many talented actors and actresses have returned to the screen with new dramas like Sajal Aly, Sanam Jung, Seema Jee, and Faysal Qureshi. Hopefully, this year will also be full of the best Pakistani dramas. So, here's what we are going to see this year.Kuch Ankahi
Kuch Ankahi will be one of the best Pakistani dramas on air on HUM TV in collaboration with the Kashf Foundation. It will be released on 14th January 2023 under the direction of Nadeem Baig and the production of Humayun Saeed and Shahzad Nasib. It is a lighthearted comedy with a serious topic. The drama stars Syed Muhammad Ahmed, Sajal Aly, Bilal Abbas Khan, Qudsia Ali, Mira Sethi, Veneeza Ahmed, Irsa Ghazal. We will watch the cute bickering chemistry between Sajal and Bilal Abbas Khan.Pyari Mona
Pyari Mona is also a kindling drama serial. It rotates around the girl, Mona, who goes through body shaming by society. It is also a comic drama serial that portrays the struggle of plus-sized individuals in our community. Sanam Jung, Adeel Hussain, Mashal Khan, Muhammad Hunbal, and Sabeeka Imam are in the cast. Sanam Jung is playing the lead role. Pyari Mona will come on-air on HUM TV under MD Production.Hook Drama
The viewers will also watch Hook drama on ARY Digital under the production of iDream Productions. It starts Kinza Hashmi, Faysal Qureshi, Seema Noor, Shahroze Sabzwari, Zain Baig, Hina Dilpazeer, and more. It is a star-studded project. The drama revolves around the life of a young girl, Haya, who wants to marry Zayan. However, another of her university fellows loves her and tries to get her but dies. Faysal Qureshi plays the role of the brother of Shaheer, who marries Haya to take revenge. Faysal Qureshi's performance in Hook drama will be one of the best Pakistani dramas in the coming year.Tere Bin
Tere Bin has created a frenzy among the drama audience. Wahaj Ali and Yumna Zaidi's passionate chemistry in this drama is the reason for all the hype. They are in the characters of Murtasim and Merab. It was released on GEO TV by 7th Sky Entertainment. Both of them have entirely different personalities. Murtasim is assertive and aggressive, while Meerab is a liberated girl who stands for the right.Mujhe Pyar Hua Tha
Hania Aamir lured her fans with her innocent character of Hala in Mere Humsafar. She did not stop there. She has returned to make her fans love her even more in the role of Mahler in Mujhy Pyar Hua Tha. Hania Aamir appears alongside Wahaj Ali and Zaviyar Nouman. The drama deals with a love triangle and keeps viewers hooked. It is coming on ARY Digital and is produced by Big Bang Entertainment.Muqaddar Ka Sitara
Muqaddar ka Sitara is a daily soap drama serial on ARY Digital. It stars Babar Ali, Fatima Effendi, Arez Ahmad, Nadia Khan, Inayat Khan, Laiba Khan, Rimha Ahmad, and more. It circulates Hadiya, who loves Raazi but marries Faizan, a rich, spoiled guy. Raazi is Faizan's cousin, and the three live in the same house. Their love story is full of misunderstandings. Hadiya will face many problems from her husband, who does not accept her as his wife.Tere Bina Mein NahiTere Bina Mein Nahi stars the super-talented Sonya Hussain, Aiza Awan, and Shehzad Shiekh. This drama is appearing on ARY Digital. It circulates Noor-ul-Ain, who loves Murtaza but prioritizes her career and needs over him. Tehniyat is Noor-ul-ain's best friend and also loves Murtaza. Noor-ul-Ain sacrifices her love for her best friend. But a series of twists and turns take over the plot.SamjhotaARY Digital is bringing another star-studded drama serial, Samjhota. It stars Javed Sheikh, Saba Faisal, Shaista Lodhi, Adeel Chauhdry, Ali Ansari, Sidra Niazi, Momina Iqbal, and Shazael Shaukat. It has a unique lot line which revolves around the love life of an elderly couple and their family. On the wife's death, the father has to compromise by marrying another lady to keep his children happy.Fairy Tale
Fairy Tale was one of the Ramadan Dramas of 2023. It revolved around an energetic chemistry between Umeed and Farhad. Along with them, many other characters filled Ramadan with joy. The Fairy Tale drama cast included Hamza Sohail, Sehar Khan, Ali Safina, Aena Khan, Saleem Sheikh, and Adnan Raza Mir. It started with fights between Umeed and Farhad that eventually turned into love and a happy ending.Sar-e-Raah DramaSar-e-Raah drama is among the best of Pakistani dramas in 2023. It was a short series with only six episodes, but they were all compelling. It centred around women's empowerment. Sar-e-Rah drama cast included Saba Qamar, Muneeb Butt, harem Farooq, Saboor Aly, Sunita Marshal and many others. It highlighted the problems that every woman has to go through in her personal and professional life.

List of Best Pakistani Dramas from 2019 & 2020

Here is a list of Best Pakistani Dramas that were released during 2019 – 2020

1. A Story of Love & Betrayal – Mere Pass Tum Ho! – Blockbuster Pakistani Drama
The drama serial Mere Pass Tum Ho has been the talk of the town since the time it went on air. It has broken all the previous records with viewership, which is still growing daily. The main cast of the drama serial includes Ayeza Khan, Humayun Saeed, and Adnan Siddiqui. Khalil-ur-Rehman Qamar wrote the story, while Nadeem Baig directed the drama serial. As far as the play's theme is concerned, it is a rich composition of emotions defining the relationship between husband and wife, specifically concerning this era. You can watch it every Saturday on ARY Digital at 08:00 pm; if you have missed the previous episodes, it is suggested to watch it on YouTube. We believe this drama would also be among the top 10 Pakistani dramas of 2019 and 2020.

2. Spiritual Love Comes to Climax in 'Alif'! – Among the Most watched Pakistani Dramas 2020
This is our number 2 in the top 10 Pakistani drama list. This drama is based on the novel by all-time best writer Umera Ahmad. It was the most anxiously awaited serial this year as Umera Ahmad has never disappointed anyone with the story she stirs up with emotions. Another unique thing about this drama was that Hamza Ali Abbasi would show up after a long gap, and fans believed it would surely be special if Hamza were there. The drama's main cast includes Hamza Ali Abbasi, Sajal Ali, Kubra Khan, and Ahsan Khan. Haseeb Hasan has directed the Drama serial Alif. The story of this drama revolves around the spiritual element, and that's the fundamental attraction for the primary view. You can watch it every Saturday on Geo Entertainment at 08:00 pm.

3. Society Through Different Perspectives – Ranjha Ranjha Kardi!
Ranjha Ranjha Kardi was an enchanting serial of the year for the viewers. The story of this drama proved that Pakistani dramas could take you out of the world with marvellous direction by Kashif Nisar and a deep philosophical plot by Faiza Iftikhar. The main cast of this drama included Iqra Aziz, Imran Ashraf, and Syed Jibran. Imran Ashraf played the character named Bhola, the fame of which touched the immortal grounds. If you want to see how the new talent of the drama industry is striving to mark excellence in acting, undoubtedly, Ranjha Ranjha Kardi is the best example. This blockbuster drama is on-air on Hum TV. You can now watch it on YouTube in case you have missed it.

4. When Misunderstandings Cause Harm to Relationships – Do Bol!
Does Bol is one of the most-watched dramas in 2019, with a fantastic story somewhat different from the traditionally produced serials? Although Hira Mani wasn't considered among the industry's notable actors, this project proved to be a talent-revealing thing for Hira. It wouldn't be reconfirmed to prove that her character selection in Do Bol was accurate. On the other hand, Affan Waheed acted as usual amazingly. Thus, the chemistry between Gaiti and Badar became an everlasting enchantment for the viewers. The drama was aired on ARY Digital; you can now watch it on YouTube if you have missed it.

5. Ehd-e-Wafa – Believed to be among the top 10 Pakistani Dramas chart of 2020
Another addition to the hit dramas of 2019 is Ehd-e-Wafa, which is not a romantic tale but covers the remarkable journey of four friends. The acting is a sponsored production whose theme is about how the four fellows strive to make their lives. The drama's main characters include Ahad Raza Mir, Osman Khalid Butt, Wahaj Ali and Ahmed Ali Akbar. Ehd-e-Wafa was written by Mustafa Afridi and directed by Saif Hassan. This serial is being aired on Hum TV every Sunday at 08:00 pm. You can also watch it on PTV Home and YouTube.

ALSO, READ COMPLETE SYNOPSIS OF EHD E WAFA AND LISTEN TO THEIR OST

6. Something Different about Disputed Marital Relations – Khaas!
Khaas is a drama serial that gradually gained popularity with every new episode. Initially, it seemed like a typical story, just like other relationship make-up and break-up serials; eventually, it turned out to be so interesting in terms of the twist and turn the writer Sarwat Nazir added to the plot. Sanam Baloch outshone in a different character this time, while Ali Rehman and Haroon Shahid also did an exceptional job. The drama theme covered all those issues related to disputed marital relations, which are usually not addressed. Danish Nawaz, the play's director, superbly puts life into this story's characters. It aired on Hum TV and is now available on YouTube. After releasing the first three episodes, Khass topped the top 10 Pakistani Dramas charts in 2019.
7. Ishq Zah-e-Naseeb – Another Top 10 Pakistani Drama for 2020
All over the year, every time something is being showcased on television, the story revolves around something out-of-the-box or lesser addressed issues. Hashim Nadeem has been known as one of the exceptional writers, and Ishq Zah-e-Naseeb is a fine piece to prove this. The story's plot has an element of suspense and uniqueness as a person with dissociative identity disorder and his married life is shown in the serial. Zahid Ahmed plays the leading role in Ishq Zah-e-Naseeb, while supporting actors include Yumna Zaidi, Sonia Hussain, Zarnish Khan, and Sami Khan. The drama is aired every Friday on Hum TV at 08:00 pm. Don't miss it!
8. The Story of Loveless Marriages – Yaariyan!
The Drama serial Yaariyan is another blockbuster production of the year on-aired on Geo TV. It is constantly gaining viewers on YouTube every day. It broke all the records and captured a good viewership. Ayeza Khan played a negative role in this serial, and to watch it, even the viewers of other channels tuned into Geo. The main cast of this fantastic drama included Junaid Khan, Ayeza Khan, Muneeb Butt, Hina Bayat, Mehmood Aslam, Moomal Sheikh, and Shagufta Bhatti. Samina Ijaz wrote the theatre, while Syed Wajahat Hussain directed it excellently.
9. When a Girl Stands Alone to Fight against Rape – Russia!
Russia has hooked many viewers since the time it was showcased. It is one of the best Dramas on ARY in recent years. The story of this drama serial revolves around sensitive yet important sexual abuse issues and, specifically, the stereotypical treatment of society towards the victim. Sana Javaid is playing the leading role, and Mikaal Zulfiqar is acting as her husband, who is also very possessive about society's reaction and treatment towards the victim, who is no one other than his wife in the drama. Moreover, a twist has been added to the story with the old tradition of "Watta Satta" marriage. The acting is being on-aired every Tuesday on ARY Digital at 08:00 pm.
10. A Bundle of Happiness – Suno Chanda 2!
The blockbuster family comedy serial Suno Chanda gathered many fans last year; this year, in continuity, it has again broken the record while bagging two awards for being the most-liked comic serial. It has been considered one of the best entertainment packages of the year and was the never-ending fever sort of feeling for the viewers, hitting the idea of the play's sequel after its success last year. The main cast of this crispy entertaining serial included Farhan Saeed, Iqra Aziz, Nadia Afghan, Farhan Agha, and others; in contrast, the new yet wonderful inclusion of Arjumand Rahim, Raza Talish and Sabeena Farooq added to the comedy serial's sweet and spicy twists.
11. Pyar Kay Sadqay – Something Beyond Love!
Pyar Kay Sadqay is a story of two innocent lovebirds unfamiliar with each other initially, but as per the teaser, they seem to get closer over time. The drama is a sweet romantic production; the main cast includes Yumna Zaidi and Bilal Abbas Khan.The difference about this story that makes it one of the top 10 Pakistani dramas is the role played by Bilal Abbas Khan, who has usually been playing severe roles in blockbuster dramas like 'Cheekh' and 'Balaa'.The rest of the cast of this drama includes Atiqa Odho, Omair Rana, Yashma Gill, and others. You can watch the drama on Hum TV every Thursday at 08:00 pm.
12. Ishqiya – The Love Triangle!
The story of this drama is a love story triangle. The story is full of twists and turns to make it something interesting to watch for the viewers. The main cast of this drama includes Ramsha Khan, Feroze Khan, and Hania Amir. The acting is on-aired every Monday at 08:00 pm on ARY Digital, so mark it in your watch list.
13. Falling in the Ditch for Chasing Money – Jhooti!
Another great drama is Jhooti starring Iqra Aziz, Ahmed Butt and Yasir Hussain in the lead roles. The story is basically about a girl who is so clever and is crazy about being married to a rich person just for the sake of money.
14. Parizaad 
Parizaad is the most-watched and most-loved drama of this year. The theatre is still airing on HUM TV. The story involves Ahmed Ali Akbar in the lead role, playing the character of a poor, consistently rejected, and commoner in society. While this may be true, Parizaad has exceptional abilities of loyalty, truthfulness, and passion for being educated. The story unfolds as Parizaad encounters several tragic situations that leave him alone. However, he continues to be the man he is and finds the respect and wealth he never thought of. To watch the drama, click here.
15. Hum Kahan Kay Sachay Thay 
Another important drama currently being aired on HUM TV is Hum Kahan Kay Sachay Thay. This drama marks the comeback of Mahira Khan in dramas. The story revolves around a girl named Mehreen who has a tragic life after the death of her father and the second marriage of her mother. As the plot unfolds, the story shows how badly Mehreen is misunderstood and hated by the people she loves. Hum Kahan Kay Sachay Thay highlights genuine mental health issues and how the person's silence is not their guilt or fault. If you want to watch the drama, click here.
Farq Drama Starring Faysal Qureshi In The LeadAbdullah Kadwani and Asad Qureshi produced this drama. Faysal Qureshi is known for his best performance. He excels in his role by absorbing it completely into his personality. Now, he is coming in Farq drama alongside Sehar  Khan. The drama will broadcast from 24
th
 October on GEO TV.Teaser 1 of Farq drama is out and has already hooked the audience. Faysal Qureshi plays the role of a rich, mature, and middle-aged man. He lives alone in a vast mansion. Sehar Khan is a university student who pretends to be rich, but in reality, she is the daughter of a driver. The drama seems mysterious as it involves class distinction and the age gap between Sehar Khan and Faysal Qureshi. The storyline looks interesting. Qalandar DramaQalandar Drama is another exciting story for the public coming on GEO TV. The drama is on air from 14
th
 October 2022, every Friday and Saturday at 8:00 p.m. Asad Qureshi and Abdullah Kadwani produced this drama. Samra Bukhari has written the script.We have an on-screen couple of Muneeb Butt and Komal Meer. Ali Abbas is also in this drama as the third character in the triangle. Komal Meer plays the role of an innocent young girl from a village. Her name is Dur-e-Adan. She believes in Allah. She prays and always hopes for the best. The cast is giving its best performance in Qalandar Drama.Many people wonder if 
Pakistani dramas
 are merely entertaining us or, in actuality, teaching us life-changing lessons. So, what's the first thing that springs to mind when you think of Pakistani dramas? We are sure there would be many things, including a perfect representation of gender stereotypes, toxic marital relationships, and various social issues. There's a lot more that we get from Pakistani dramas, which we'll discuss in this article.  
Questions People Mostly Ask About Pakistani Dramas
1. Which Is The Best Drama In Pakistan?
Ans. Although all drama serials are among the best dramas, the one that stood out from the rest this year was Mere Paas Tum Ho. This drama created so much hype that its last episode went on-air in cinemas.
2. Which is the best drama in Pakistan in 2020?
Ans. Per the drama list for 2020, the best drama in Pakistan is Mere Paas Tum Ho. It gained much popularity and a fantastic response from viewers nationwide.
3. Which Pakistani drama should I watch?
Ans. Among all the best dramas of 2020, the best and the must-watch dramas include Mere Paas Tum Ho, Ehd-e-Wafa, and Ranjha Ranjha Kardi.
4. Which Pakistani drama has the highest TRP?
Ans. The drama serial Mere Paas Tum Ho is at the top of the chart for having the highest TRP in 2020. This makes it the most-watched drama of the year.
5. Which is the number 1 Pakistani Drama?
According to search engines and TV reports, Sang e Mah
 has been the most-watched and 
No. 1 Pakistani drama
 of 2022. Because of the stats that are present on YouTube and news reports, Sang e Mah is the no Pakistani drama of 2022
6. Which is the most trending drama in Pakistan in 2023?
Mayi Ri is Pakistan's most famous and trending Drama, with the highest ratings in the last quarter of 2023.
The list of best Pakistani dramas was updated on 25 September 2023.
Top 10 dramas of pakistan on youtube
Top 10 dramas of pakistan imdb
best pakistani dramas of all time
top pakistani dramas 2023
best pakistani love story drama
Top 10 dramas of pakistan 2020
top 10 pakistani dramas 2023
most viewed pakistani drama on youtube